Gallery: Tows | Exotic Car Transport
Careful Towing and Transporting
Look at our gallery below to see us showing off our trucks out on the job around town. We love that we get to help our community in need, and getting to move classic and exciting cars is nice too. See why we're trusted by collectors, enthusiasts, commuters, families, and dealerships across the Lehigh Valley for every-day towing and exotic car transport. 
Specialists in Exotic Car Transportation
As you can see, our clients have honored us with the privilege of moving some pretty special cars. They aren't just special to their owners, some of them are special to us all as irreplaceable pieces of car industry history.  That's why we take such care in handling them, even on the shortest trip. 
Our methods for transporting exotic cars come from the same love you have for your car or truck. We got into this business for a reason, and part of that is our passion for motor vehicles of all kinds. Cars, trucks, vans, and tractors, it doesn't matter as long as it's got an engine and wheels.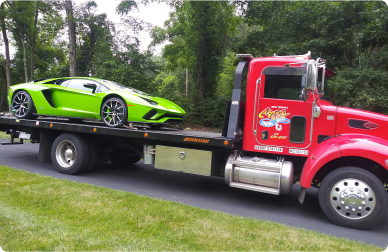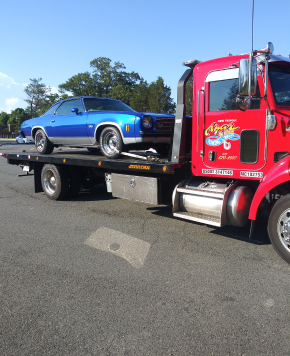 We know that a car can be a lot of things depending on the car, person, or day. It can be a tool, a symbol, a collectible, or even someone's baby. Either way, it represents a significant investment of time and money that isn't simply replaced. Whether it's a 60 year old weekend muscle car or a third-hand sedan, we will give it the utmost care. Whether we're towing your car or safely transporting it, you can be sure it's in good hands with car fans like us. You'll be ready for your commute or a weekend show. 
Our Team will provide everything from towing and roadside assistance to off-road recovery. We strive to provide honest and reliable service during every job. Our technicians will safely transport your car, truck, or motorcycle to your preferred repair facility. Azar Towing is ready to assist you!