Light Duty Towing Services
Azar's Light-Duty Towing Specialists
Azar's Towing has served the Lehigh Valley and surrounding areas with fast, fair, and reliable light-duty towing services for over 35 years. We have two locations in the Lehigh Valley, so we are able to respond quicker than most of our local competitors. We're fully licensed and insured in PA. We have all DOT requirements as well as our MC numbers for anything out–of-state.
What is Light-Duty?
The towing industry classifies tows by weight into three categories. These are light, medium, and heavy tow divisions. The weight of the tow truck determines its weight class, with each class requiring different equipment and certifications. Operators will use different trucks for different jobs and hauls. 
What We Tow
At Azar towing, we are prepared to move any lighter vehicle. For example, sedans, coupes, SUVs, and most pickup trucks are lighter vehicles. We are trained to tow vehicles out of any situation. Situations such as accident recovery, traffic collisions, abandoned vehicles, and private tows. We can even tow two vehicles at a time if the situation calls for it. An operator can put one car on the bed and another on a pull-behind trailer.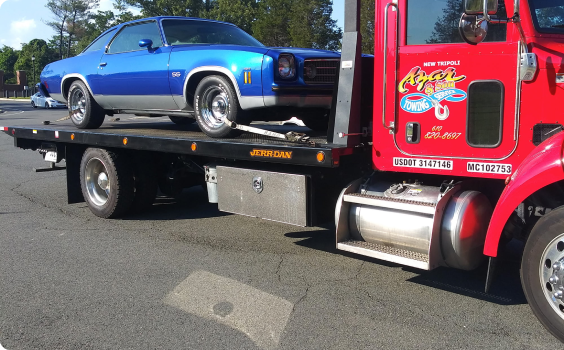 Our Team will provide everything from towing and roadside assistance to off-road recovery. We strive to provide honest and reliable service during every job. Our technicians will safely transport your car, truck, or motorcycle to your preferred repair facility. Azar Towing is ready to assist you!