Azar Towing's Flatbed Services in Allentown, PA
When you need reliable flatbed towing services in Allentown, Pennsylvania, Azar Towing is ready to be your go-to expert. With a strong track record of delivering professional, fast, and secure services, we are here to help you with all your flatbed towing needs.
Your Trusted Partner in Flatbed Towing
Azar Towing stands out in the crowd with our extensive experience, exceptional customer service, and commitment to safety. We offer the best flatbed towing services that are ideal for transporting luxury cars, classic cars, motorcycles, small boats, and other vehicles that need special care. Our skilled operators ensure your vehicle is securely positioned on our flatbed trucks and safely transported to your destination.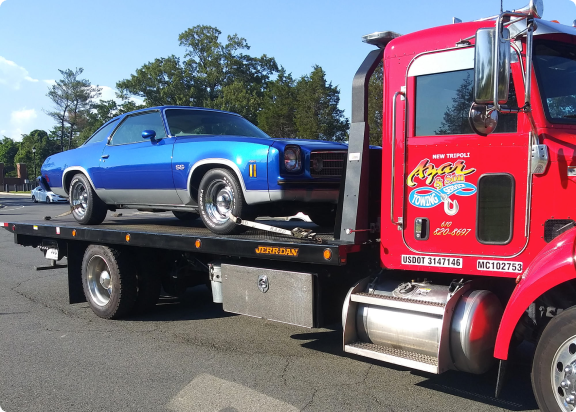 Why Choose Azar Towing in Allentown, PA?
Choosing Azar Towing for your flatbed towing needs means opting for peace of mind. Our priority is your satisfaction, safety, and timely service. We pride ourselves on our ability to handle all kinds of towing needs, regardless of how complex they may seem. As a local company with deep roots in Allentown, we value our relationship with the community and are proud to serve our neighbors.
24/7 Flatbed Towing Services
We understand that emergencies don't follow a 9-5 schedule. That's why we offer our professional flatbed towing services 24/7. No matter the time of day or night, we're always just a phone call away to assist you.
Get in Touch With Us Today
If you're looking for the best flatbed towing services in Allentown, PA, you can count on Azar Towing. Reach out to us at any hour – we're always ready to provide you with quick, efficient, and professional service. Call us today at (610) 820-8697 or fill out our online form for immediate assistance.
Azar Towing in Allentown – for a safe and secure flatbed towing experience.
Our Team will provide everything from towing and roadside assistance to off-road recovery. We strive to provide honest and reliable service during every job. Our technicians will safely transport your car, truck, or motorcycle to your preferred repair facility. Azar Towing is ready to assist you!