Cash for Junk Cars in Easton, PA
We'll Give you Cash
for Your Old Junker
Get Cash for Your Junk Car Around Easton
At Azar's Towing Company we have a reputation for offering the best deals, on the spot and in cash, for junk cars in Easton and beyond. So if you've got one or more junkers taking up space in your property, give us a call!
We'll give you a thorough run-down of the scrapping process and come as soon as we can. You shouldn't have to worry about getting equipment or finding a local junkyard, we take care of the hassle and give you a great rate. 
Nothing beats turning trash to treasure.
Local Tow Offering Free Junk Car Removal
That's right, we remove your junkers for free, and pay you cash right there. When you call us to junk your car, we come and go as soon as possible. We have a fleet of trucks and extra flat-bed trailers, so we can haul multiple vehicles at once.
Just let us know the years, makes/models of the car, and the current location of the vehicles. Then, we just need either a title or PA registration for each vehicle. We don't even need the keys.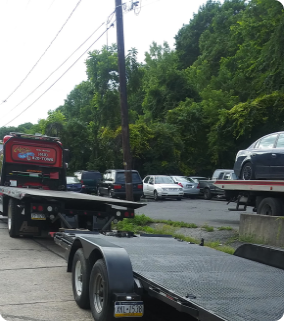 Let's Junk that Car, Easton!
Our personnel have a respect for cars and other car people. They will offer a fair, informed appraisal, and will always understand the value of your time. So let's turn that rust into reward by freeing up space and getting cash into your pocket. 
 Just reach out and set up a time with one of our certified personnel, from your yard to the junkyard, they'll take care of the rest.
I needed my car flat-bedded ~12 miles to the dealer. I saw Azar had 2 good reviews, and gave them a call at around 9:30am. The gentleman asked me about how critical my timing was, and if it was okay if they driver came in about 1h 15m? I said that would be fine, I'm at the office all day anyway. Well, the driver was there in under that time frame. He was so professional and took great pains (used some extra wood ramps) to ensure my slightly lowered twin turbo Audi was well cared for. He nursed it onto the bed and lashed it down. The key was still in the ignition (so we could steer it out of the parking lot), and I said "Should I just leave the key in the ignition since it is going to the dealer?" Well, he astutely asked, "Does it have autolocking?" So we pulled the key out. I soon got a call from the dealer, and they had already diagnosed a failed fuel pump (which I suspected).
Azar Towing was great!
– Jon Kern
Car and Vehicle Transport
You may have some extra space and cash after clearing out all that junk. If you are in the market for new cars or equipment, remember that we offer excellent car and vehicle transport services across a broad area. Our flatbeds are secure, well-maintained, and ready to haul wherever you need. 
From towing and roadside assistance to off-road recovery we strive to provide honest and reliable service during every job and will safely transport your car, truck or motorcycle to your preferred repair facility. Azar Towing is ready to assist you!