The Tow Truck Specialists
 Our tow truck operators know how to transport your vehicles safely. As a result, we have served the greater Lehigh Valley area since 1987.
 Our staff has decades of towing experience including cars, motorcycles, construction equipment, boats, and other vehicle transport. We are a full-service towing company that services the Lehigh Valley area. In fact, our headquarters is in Allentown, Pennsylvania. 
Reliable Vehicle Towing 
You can rely on our certified and trained operators to respond quickly to your accident or emergency. Our fleet of trucks can perform vehicle transport, flatbed tows, and junk car removals.
Got Junk Cars for Sale?
We'll gladly pay cash for your unwanted or junk vehicles. Give us a call at 820-TOWS for any towing, transport, or roadside assistance.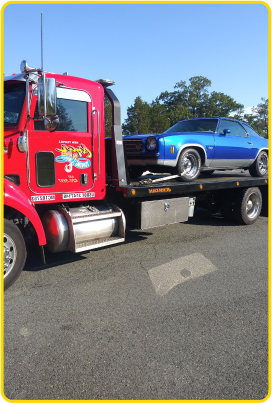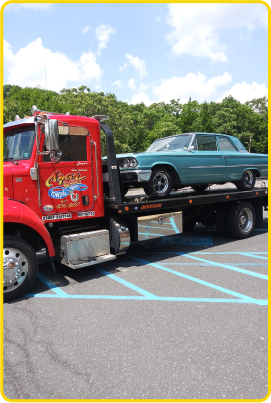 Local, Reliable Fast Towing 
Azar Towing operates seven days a week, to provide reliable towing services so nobody's weekday turns out to be a weak day. We service from Allentown to anywhere across the Lehigh Valley. Call (610) 820-TOWS to get our team on the case!
We offer the following towing services listed below:
TESTIMONIALS
"Joe the Dispatcher did an amazing job describing to me the scrapping process and gave me an accurate ETA for the pick up. Joe had his tow truck driver to my location 20 minutes after I hung up with him. Quick Service! Victor took 1 minute to verify info and give me the check for my vehicle. I gave him a tip because of his service. I recommend these guys!"
KellieAnn Armitage
Allentown, PA
TESTIMONIALS
"Azar Towing helped me out in a big way and I can't be more appreciative of their services. I needed to have a boat and trailer transported on a flatbed to a repair shop. The driver, Jason, showed up on right on time and made the entire process go incredibly smooth.The cost was well below what I was anticipating. I absolutely recommend Azar Towing. !"
Evan Rehrig
Allentown, PA
TESTIMONIALS
"I called a few towing companies before stumbling upon Azar, and I couldn't be happier that I did. I had my car towed 60 miles and they charged me over $100 less than any other place I called. Two days later I has to tow my car again so I called Joe and Azar who I dealt with before and again gave me a great price. "
Melissa Kauffman
Allentown, PA
WHAT MAKES US THE BEST
TOWING SERVICES

PROVIDER

We provide quick and affordable towing services and are prepared to adjust our rates as circumstances change

We are a dependable all-car towing company that will come to any part of Pennsylvania to help you.

Highly Equipped and Qualified
Whether your vehicle has broken down on a major motorway or a restricted location, we are equipped with special low-level tow trucks to help you out of any situation.
IMAGE GALLERY
AZAR TOWING
Our Team will provide everything from towing and roadside assistance to off-road recovery. We strive to provide honest and reliable service during every job. Our technicians will safely transport your car, truck, or motorcycle to your preferred repair facility. Azar Towing is ready to assist you!